Peaked Cupboard,
Atributed to Jacob Saunders (1760-1818) of Montgomery County, North Carolina


Readers of my article on John Saunders and Catherine Nimrod may remember the following from a letter written in March 1965 by Phebe Lottie Sanders Kingery (1885-1971) to her niece's daughter, Mabel Harmon. Later, Phebe's daughter, Elva Hoge Dixon, sent a copy of the letter to Don Schaefer, editor of Sanders Siftings.

"I'll start with the grandparents of Phebe Emeline Sanders although I don't know much about them, not even their given names so I just have to call them Mr. & Mrs. Sanders.[Actually, they were Jacob and Mary Saunders-gs]. They lived in North Carolina. He built household furniture with the use of hand tools and sold them. I don't know how many children they had, but he gave each child a homemade chest--made soon after they were born in which to keep their clothing. A daughter named Deborah later became my grandma, my mother's mother. She was born on March 7, 1803. I don't know how she first got acquainted with my Alabama grandfather, Mr. Joseph Sanders, but she went to Alabama and they were married. He was much older than her for he had been married before and had 12 children, most of them grown and married, probably at ages of 14-16. I don't know when they (Joseph and Deborah) were married but probably about 1838 for their oldest son was born about 1840. That was Uncle Henry. Then their second child was my mother who was born May 20, 1842 and her third and last child was Uncle John who was born Aug 30, about 1844. Grandma (Deborah) died when Phebe (my mother) was only 12 yrs. old and mother kept house for her father and 2 brothers (with their help) until Civil War started. Deborah's mother who was my great-grandma lived to be 106 yrs. old." [The later sentence may be an exaggeration, but the 1860 census does show her as over 100.-gs]
In March 2001 Don Schaefer met Elva Hoge Dixon in Chesapeake, Virginia, and she gave him several handwritten notes about her family tradition. She wrote that her ancestor Jacob "made furniture and as each of his children was born he made a white cedar chest for each of them to put their personal things in. The chest that was made for Deborah was brought by Isham[i.e, Isham King, husband of Phebe Emaline Sanders Kingery-gs] and Phebe in their trip to Illinois. One leg was broken off in the journey so the other three were removed. That chest was in our attic and used by Mom for storage. At Mom's death my brother Arthur got the chest and after Arthur's death his wife Dolores sold the chest to her sister-in-law and it's still in use."
Although this family tradition that Jacob was a carpenter and cabinet maker of domestic furniture has been around for a long time, only recently has anyone tried to establish if there are any existing article of furniture that may have been made by Jacob or his sons. June Lucas, a curator at the Old Salem Museum and Gardens in Winston Salem, North Carolina, thinks she has found an example in the peaked cupboard pictured below. According to her, the information from Elva Hoge about Jacob "making hope chests was pivotal in my attribution of 15-20 pieces of furniture from the Ophir area to Old Jacob and his carpenter son Jacob L. The piece my museum owns was found in Troy and has the name 'S. D. Hardister,' scribbled on it. I think this is Peggy Hardister's son Ezekiel's daughter Sara Della.[Margaret "Peggy" Saunders, daughter of Jacob, married Green Hardister and their son was Ezekiel, father of Sara Della-gs]. The signature was clearly added later and is not the maker's signature. It's one of my favorite pieces in our museum.I think most of the furniture was made in the area between Ophir in Montgomery County and Pisgah in Randolph County."

This picture appears in an article in the January 2010 issue of the periodical American Furniture. The article deals with examples of paint decorated furniture of the Piedmont area of North Carolina.
Another article at this Web site gives further information about Jacob Saunders and his wife, Mary, who was born in the 1760s and died in the 1860s.
written January 2010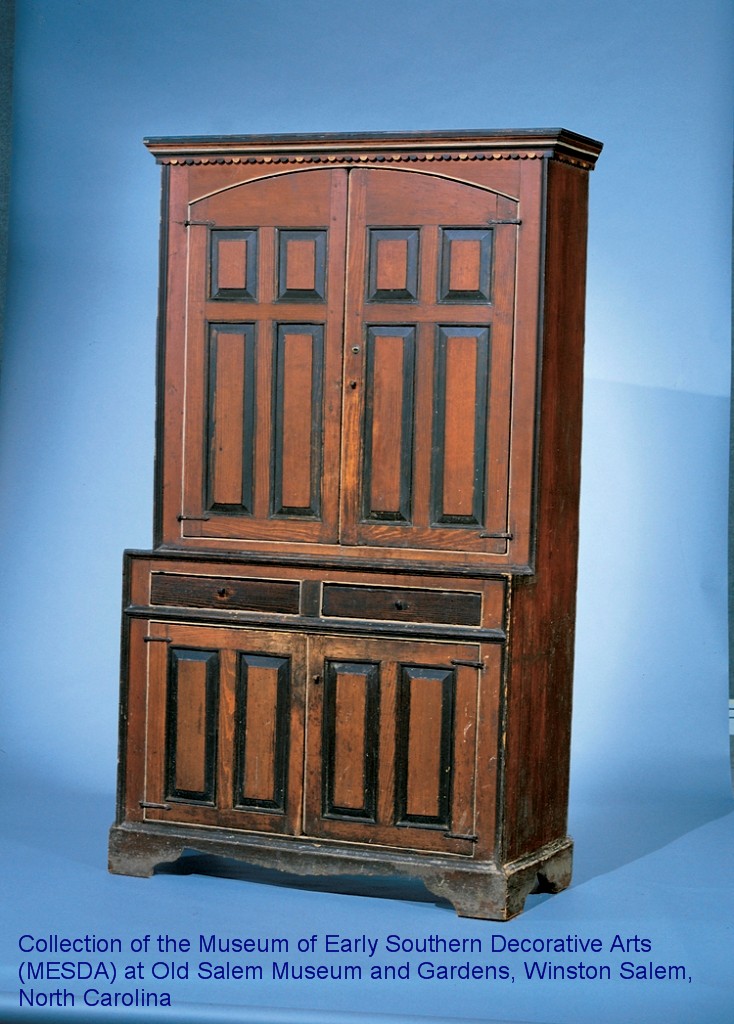 Click on icon to return to Home Page, Sanders of Randolph and Montgomery